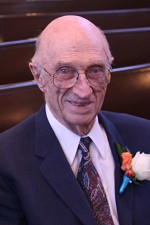 Clair Clinton Yagel
March 25, 1921 — June 8, 2013
Send A Card
On Saturday, June 8, 2013 CLAIR C. YAGEL, age 92, of Wheaton, MD, beloved husband of the late Sara Barnitz Yagel ("Betty"); father of Dave, Gary (Sandy), and Scott (Lynne) Yagel, and Debi (Tom) Abbamonte; grandfather of Kristin Abbamonte (Quinton) Kocher, Brett (Meg) and Drew Abbamonte, Karen Yagel (Mike) Fleming, Kim, Brian, Jonathan, Peter, Tim (Jocelin) and Josh Yagel; and, two great grandchildren, Colton and Kaylie Kocher, went home to the Lord.
Clair was born in Laurel Park to Leroy E. and Florence G. (nee Rote) Yagel on March 25, 1921, and moved to Mifflinburg at age eight. He played fullback on the varsity soccer team and center for the basketball team at Mifflinburg High School where he was active in many other activities. He graduated from Penn State in December 1942 with a Bachelor of Science degree in Electrical Engineering. He went to work in Washington, D.C for the Navy Department where he worked virtually his entire career, including more than 15 years as a GS-15, and retired from the Naval Electronics Systems Command (NAVELEX).
Clair and Betty were married on June 12, 1943 in Mifflinburg and now, after nearly 23 years apart, are together in heaven for what would have been their 70 th anniversary.
As "family patriarch", Clair will be fondly remembered for his kindness and generosity by all members of the "Yagel clan". "The righteous man walks in his integrity. His children are blessed after him." Proverbs 20:7
Family and friends are invited to the funeral at 2 PM on Saturday in the Dominick T. Adamo Funeral Home, 247 Chestnut Street, Mifflinburg, with the Rev. Gary W. Yagel, officiating. A Masonic service will be conducted by Mifflinburg Free and Accepted Masons, Lodge #370.
Interment with military honors accorded by area veterans from the Mifflinburg American Legion will be in the East Side Cemetery, Mifflinburg.
---
To order
memorial trees
or send flowers to the family in memory of Clair Clinton Yagel, please visit our
flower store
.